Animals Enjoy Their Stay
Our facilities offer clean, fresh and safe boarding for any pet. Dogs are exercised twice a day. Our feline friends enjoy a "Kitty Condo," secluded from our dogs. We can also accommodate any pocket pets, birds, or other critters needing attention while you are away!
Hospitalization is necessary for some circumstances, be the animal large or small. Our hospitalization accommodations are able to provide necessary lifesaving medicine and surgery to save your pet, horse, or livestock.
Commitment to Our Community
We are joyfully committed to providing excellent veterinary care while delivering a personal and empathetic customer service experience. While patient care is our passion, we recognize that God has given us a much greater calling to impact the lives of those in our community with Christ's love; through compassionate care and donations of our services, bibles and educational literature.
Payments
We accept payment via cash, check, MasterCard,  Visa, and Discover. So that we can continue to provide you high-quality service utilizing the best medical technologies, payment is required at the time services are rendered.
Many emergency services are unplanned and unexpected. Many of our customers haven't always had the funding to adequately treat their pet. Because of this burden, we are proud to announce that we now offer Care Credit. This is a line of credit available to those who qualify, breaking hospital charges down to an affordable and customizable payment plan. The quick and painless application process will tell you in as little as 10 minutes if you qualify for this program.
We provide estimates for all surgeries and hospitalizations. If you have not received an estimate, you are welcome to request one at any time for your expected charges.
Discounts
We offer discounted services to local area rescue groups. Pre-approval is required to qualify for the rescue group discounts, please call us for more information. We also support local organizations by running specials & discounts through those particular agencies, contact us to learn more about the organizations that participate in our specials.
Dr. Michael A Peters
Owner, Senior Veterinarian
Dr. Peters is a 2007 graduate of the University of Missouri Veterinary Medical College, with a Bachelor's degree in Animal Science. He was a young boy when his parents moved to Marshfield, Missouri to settle down on a horse farm and raise their son in a country lifestyle.  His love for horses developed through his youth as he worked with the horses in training, showing and riding,
Dr. Mike worked his way through high school at the local feed store before a friend encouraged him to apply for a job at Animal Medical Center. From then on you could always find him there working and learning. The doctors were pivotal in mentoring the young "Petey" in the direction of excellent veterinary medicine.
After graduating as a DVM, and several interviews all over the state, he moved back to his hometown and settled down as an associate with Marshfield Veterinary Clinic for 2 years practicing on large and small animals. After marriage, his new young family desired a change, and Animal Clinic of Ava was created!
Dr. Peters now has sons Chasetyn and Silas and Daughters Isabella and Lilah with his wife, Kayla. When he's not working hard, you can find Dr. Peters relaxing on a pontoon, camping around Dora or floating on the river. He can do an amazing "Canadian goose call," ask him about it!
Kayla Peters
Owner, Director
In the first few years of business you would be greeted by Kayla and their young son, Chasetyn, (Bub); who would answer your questions, answer the phone, and assist "Dad" when needed. Mrs. Peters now is busy keeping up with managing the growth mostly from behind the scenes using computer remoting, skype meetings, apps, and new technology to aid in running and operating.
Kayla is a certified pet trainer, receiving her certification through Top Tier Training Academy in 2017, and loves to apply her skills to their small Belgian Malinois pack. Animal behavior and psychology are areas of interest to her and Dr. Peters, and they both love to share the benefits of a balanced training program to everyone who is interested to hear.
She moved to the Ava area as a child and enjoys their rural lifestyle. A self-proclaimed "Homesteader Hippie," she aspires to raise meat goats if Dr. Peters will ever be persuaded! She enjoys sewing, camping, and floating on the river with on a hot Missouri day with a cold concoction. Her mama is her best friend and inspiration for her biblical wisdom and commitment to God's word. "My God, Yahweh has blessed us from the start. We have only Him to thank for taking a couple of kids and creating something grand and beautiful with them," she says.
Catherine Fitzpatrick
Human Resources
Miss Catherine joined Animal Clinic of Ava in 2011; as one of our friendly, up-front faces. Today she is our Human Resources Manager. She holds an Associate degree in Business and has raised dogs for nearly a decade before coming on board with us. Born in Louisiana, her family then moved to Wenatchee, Washington, where she was raised. She moved to Missouri as an adult with her husband and three young children and fell in love with the Ozarks.
Catherine keeps current on Middle-East political issues and admires Benjamin Netanyahu for his courageous efforts on behalf of his nation, Israel. She enjoys gardening, reading, and learning more ancient history in her spare time.
You can count on her to have biblical encouragement on a tough day. 
Cayla Waszczuk
Senior Manager, Registered Veterinary Technician  
Miss Cayla was one of the very first employees, joining ACA in 2010. Today she is our lead Technician and oversees all our patients admitted to the clinic while on duty.  She has a vast knowledge base of both large and companion animals and keeps the practice running smoothly and efficiently.
Cayla graduated from Crowder College as a licensed Veterinary Technician in 2008. She was employed at two area veterinary clinics before bringing her many skills and assets to our practice. Cayla resides with her husband and two beautiful daughters in her hometown, Fordland. She remains very close to her family and values her relationships with her brothers and sister.
Cayla is level-headed and works great under pressure. She has the right answer to any question you throw at her unless it involves picking favorites of anything! She is a positive spirit that sees the good in everyone. You can know that whatever she has to say, she has thought about it extensively beforehand and that it comes from the heart.
Cayla is honest, dependable, and cares so much about others; she adds a very unique and desirable dynamic to our team. Cayla enjoys horseback riding and reading in her off time when she's not chasing around the young babies!. Called "C.W." around here, our practice wouldn't be the success story it is today without Cayla, without her we wouldn't be complete!
Mary Scott   
Assistant Manager, Small Farm Animal Operations, Senior Receptionist  
Miss Mary joined Animal Clinic of Ava in 2012 and is from Macomb, Oklahoma. She has an Associate degree in Science where she studied agriculture education and veterinary technology. Her agriculture teacher was most influential to her as a young person, encouraging her to pursue her passions.
Mary had worked at a couple area clinics before hanging her hat with us, and served as an AmeriCorps VISTA (Volunteers in Service to America), teaching entrepreneurs methods of alternative agriculture. Mary and her husband live on a farm in Niangua with every animal imaginable; from goats, horses, pigs, cattle, llamas, donkeys, to duck, geese, and rabbits.
You can bet Penicillin is always stocked in her fridge! When not working hard on the farm or at the clinic, she enjoys yard work, fishing, and BBQs with friends and family back in Oklahoma. She always has a smile on her face!
Jacki-Lynn Trojan
Inventory Control Manager, Events Coordinator
Born in Aurora, Illinois, Jacki has lived so long in Ava that she proudly calls this place her hometown. She holds an Associate of the Arts degree, and a degree as a Health Care Administrator, but has applied her skills to many projects and outlets in this community for a while. Jacki is a horse trainer, breeder, and instructor and has a true passion for equine.
Although she has too many farm animals to count, her Missouri Fox Trotter, "Rooster," is her favorite of them all. Jacki owns over 15 horses of her own, in addition to five dogs, two cats, a bird, two fish, cows, chickens, geese, turkeys and mini horses all on her farm. Her days of cartwheels are in the past, and now her horses steal the show with their cool tricks like bowing, counting and giving kisses! Jacki is an avid gardener of herbs, fruits, and vegetables and can be found giving great advice about green thumbing in our clinic or at her fresh produce and eggs stand at our local town Farmer's Market.
Jacki loves her husband and any political issue on the economy and our American freedoms.
Dr. Beth Kerns
Senior Veterinarian
Dr. Beth is a senior small animal doctor at our Ava location.  As a native to our area, she loves everything about the beautiful Ozarks we live in.  Family, gardening and horseback riding are some of her favorite things.  Her compassion and caring for animals is only surpassed by her skills and competency.  We are truly blessed to have her as a part of our excellent team.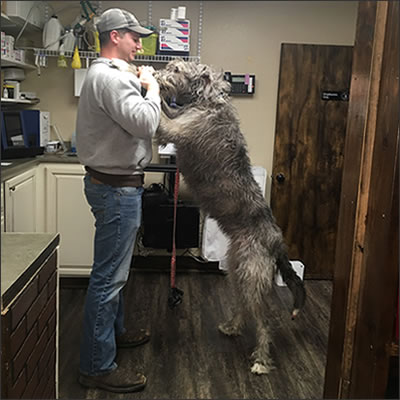 Dr. Eric Boeckmann,
Mixed Animal Veterinarian
Dr. Boeckmann was born and raised in Missouri and graduated from Mizzou.  Like the rest of our veterinarians, he is truly a hometown guy.  Dr. Boeckmann enjoys sports of all kinds and being outdoors or floating on the river, exactly why he's perfectly suited for work and play in our beautiful Ozarks!  Dr. Boeckmann's technical skills are as tall as he is with his compassion being their equal. As you can see from his picture with his Irish wolfhound, Margot, Dr. Boeckmann is up to any challenge big or small!
Chelsi Johnson
Senior Assistant
Abby Philips
Senior Assistant
Brittany Ingram
Senior Assistant
Lorna Wine
Registered Veterinary Technician, Senior Assistant
Levi Hall
Veterinary Assistant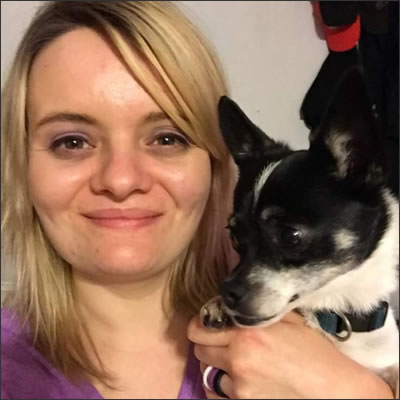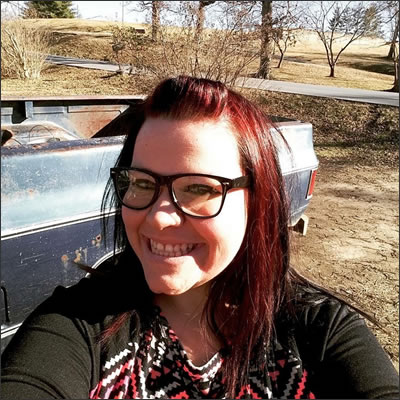 Ashley Morpeth
Receptionist
Denise Essary
Veterinary Assistant
Jody Robertson
Receptionist
Ashley Hicks
Assistants Assistant