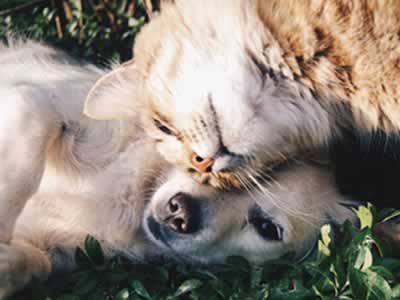 Appointments
Please contact us or request an appointment online to schedule your pet's next appointment!
Walk-in appointments are accepted in order of priority, and when the time is available, but are not guaranteed to be seen.
To schedule an appointment, please call or text us at 417-683-6830.
Pet Wellness Examinations and Vaccination
Routine appointments such as annual examinations, booster vaccinations, and dental examinations are important to keep; these allow the opportunity for our Doctors and staff to recognize issues and answer questions you may have. Building a trusting relationship is a priority for us.  When your pet or livestock just aren't acting "normal", we will gladly schedule you the soonest available appointment with one of our knowledgeable doctors.
Dental Care
Does your pet's breath smell foul? Has your pet lost any teeth, or suddenly appetite has been less than normal? We can perform a dental evaluation to check for dental disease in your pet's mouth. If your pet needs a professional cleaning we employ a superior dental machine that cleans, extracts and polishes.
All of our dental procedures are performed under full anesthesia so that your pet can stay calm and safe.  Dental disease can lead to heart complications and are potentially life-threatening. The foul odor is more than just smelly, it can actually shorten the life of your pet if left untreated. Call our office right away to schedule a dental examination if you suspect your pet's bad breath may be more than "something that they ate"...
Reproduction
Animal reproduction can be a rewarding experience, but challenging when complications arise and the unexpected takes place. We can help assist for a smooth, safe and educated journey down the path of reproduction. In both large and small animals we offer consultations and examinations, cesarean deliveries, surgical and artificial inseminations, and diagnosis of pregnancies.  We are here for you every step of the way to aid in the best pregnancy and delivery possible for your pet or animal.
Types of Pets Seen
Because we have multiple veterinarians, we can care for many types of pets:
Dogs
Cats
Cattle
Equine
Rabbits
Chickens
Sheep
Goats
Alpacas & Llamas
Swine
Pocket Pets
Reptiles
Birds
Boarding
See our boarding page for full details.
Surgeries
Our animal hospital offers advanced surgical techniques, modern anesthesia and monitoring equipment for our patients. Blood work screening for your pet's safety is available and strongly encouraged, and we carefully choose anesthetics specifically tailored to your pet.
Our facility includes isoflurane gas anesthesia machines, a heated surgical table, live-monitored recovery station, oxygen monitors, and sterilization of surgical instruments.
ABDOMINAL:
SPAY AND NEUTER: Our subcutaneous layer of the suture is absorbable; which means you do not have to come back to have stitches removed. This is also cleaner for your pet, lowering the risk of infection and post-surgical complications.
Exploratory Surgery
Hernia Repairs
Cesarean Delivery
Surgical Insemination
ORTHOPEDIC SURGERY:
Surgical repair of fractures
CCL Repair
Feline Declaw
Limb amputation
Splinting and casting
OPHTHALMIC SURGERY:
Entropion and Ectropion
Eye tacking
Cherry Eye repair
Laboratory
Our in-house laboratory is fully furnished with advanced blood work machines that allow us to view an accurate and overall picture of your pet's health with fast results, which help us diagnose and treat your pet as quickly as possible. 
Because of our machine capabilities, a variety of tests are available in our lab, including blood chemistries, blood counts, parasite screening, electrolyte testing, and much more. If your pet needs a test that we don't have the capability of running in our hospital, such as allergy testing, we work with an outside laboratory to run that test and often have results back in 24 hours.